Carlo Galli Joins The Water Network as Advisor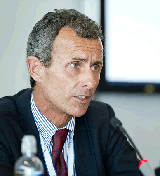 Today, TheWaterNetwork.org (TWN) announced that Carlo Galli, Technical and Strategic Advisor for Water Resources at Nestlé, has joined the organization in an advisory capacity.
Galli is an internationally recognized thought leader on water use and sustainable supply chains in agriculture. He is responsible for the adoption and improvement of sustainable water resource management practices within Nestlé Direct Operations, that includes >500 factories, and the agricultural raw material supply Chain. Carlo develops corporate strategy and projects aimed at minimizing the threats related to long term water availability, ensure good relationships with local stakeholders and deploy local initiatives aligned with the Nestle "Creating Shared Value" framework.
"We are delighted to welcome Carlo as an advisor to TheWaterNetwork.org", says Trudi Schifter Founder of The Water Network and CEO of TallyFox, "as Chair of the "Working Group Water & Agriculture" within the "Sustainable Agriculture Initiative" (SAI) and Member of the "International Standard Development Committee" (ISDC) within the "Alliance for Water Stewardship" (AWS) he brings important insights on complex issues relating to water and agriculture. Carlo's experiences in the challenges of scaling best practices in the field will be invaluable to help us fulfill our mission of empowering human potential to solve sustainability challenges in the water and agricultural sectors".