Efficient Use of Agricultural Water - Networking event in Zurich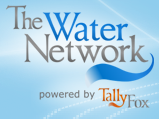 PRESS RELEASE
Agriculture accounts for circa 70% of water use –
The Water Network gathers experts from Venture Capital, Syngenta, Nestle and the UN to discuss the efficient use of agricultural water and the technologies that can help.
Zurich, 18.01. 2013 - The Water Network is organizing a Networking Event on the Efficient Use of Agricultural Water, which will take place at the Radisson Blu Hotel at Zurich Airport, (Floor 7, Room Luzern) on Wednesday, 23 January 2013 from 18:00 to 21:00.

"…. under present conditions and considering the way water is currently being managed, we will run out of water well before we run out of fuel."
Peter Brabeck-Letmathe Chairman, Nestle
The event will gather international water and agriculture professionals from the private, academic and public sectors, as well as philanthropists and investors who are active in sustainable resource management.
The program includes the following speakers:
Trudi Schifter, CEO, TallyFox Social Technologies AG

Dr. Pasquale Steduto, Deputy Director, Land & Water Division
Food & Agriculture Organization of the United Nations (FAO)
Mr. Peleg Chevion, Head, Crop Enhancement & Water Solutions, Syngenta

Mr. Carlo Galli, Technical & Strategic Adviser
Water Resources Corporate Operations at Nestec S.A. (Nestlé Group)
Dr. Helge Daebel, Water Sector Specialist, Emerald Technology Ventures
"We look forward to an insightful and thought-provoking evening with experts in the fields of agriculture and water", said Trudi Schifter, Founder of The Water Network. "This event follows The Water Network's mission of gathering professionals to jointly build global intelligence in the water sector."
Sponsors and Partners include the Swiss Federal Office for Agriculture (FOAG), The International Water Management Institute, and The Swiss Forum for International Agricultural Research (SFIAR).
Click here for additional information and registration.
If you can not make it, we will stream the presentations live: http://bit.ly/twn-live