Is Contextual Knowledge Management the Key to Adoption?

Posted by

TallyFox

on 27 June 2016
Dealing with knowledge in an organisation is a daunting task. As creators of a cloud-based knowledge management solution Tallium and a company who has built a successful knowledge sharing network ourselves, we know that knowledge is not easy to capture as it is not offered lightly.  
There are many ways to do this, and knowledge managers or people in charge of this task usually opt for a "best practice solution" in order to capture knowledge, share it and make it accessible. 
Is the best practice solution really the right one? 
David Griffiths from K3Cubed has asked a very interesting question in his recent article: "Does one size really fit all?". In this article, David challenged the notion of "best practice", saying that it assumes "that there is one "best" way of doing something. In which case everybody would be doing the same thing and where is the competitive advantage for a talent-driven Knowledge Economy?". 
David's suggestion is to create a one-size-fits-one solution, which speaks to the needs of the individual, as opposed to a one-size-fits-all approach where experts provide solutions and then ask users to adopt them. 
How can this be done?
The first step is to identify the users and their needs.
Look at your organisation and the people in it who will be using the platform. Are they collaborating on a project or are they connected by their job description, e.g. the sales team? Are they working in the same office? What is their age? How would they use the knowledge management tool you are providing? Why would they use it? Which goals are they trying to achieve? Which problems are they trying to solve?
On a recent research task, we at TallyFox have identified three types of users that are present in each organisation. Regardless of how they are named, their usage of the platform is very similar and they are the ones that you should have in mind when configuring the platform. 

TallyFox Team posing next to user personas
The Domain Expert:
It is their brains you wish to "pick" and their expertise you wish to be shared with the rest of the organisation. Domain experts perform best in an environment configured to engage them, and to do that you need to enable the features which would help them achieve their personal goals: to build their reputation and connect with other experts of the same or higher ranking.
The Program Manager
Program managers keep the platform alive by creating an environment experts are comfortable collaborating in. We've written more about them, their goals, needs and duties in this article, but what is important to underline is that they are the ones who will understand the users and configure the platform accordingly.
The Project Member/Regular User
This type of user is using the platform to collaborate on a project with other members and through this collaboration they would like to showcase their achievements, have access to fresh information and get regular updates on the status of the project which would help them do their daily work better.
The second step would be to tie their needs to features and configure your software accordingly.
In order to encourage the desired behaviour from each user described above, the platform must be tailored to their needs. The best way to explain this step would be on our own product, Tallium as it is configurable to each use case and its functionalities can be turned on and off for each instance.
What does this mean?
It starts from the number of instances your organisation needs. We call those instances workgroups and communities. Each network can contain multiple communities and each community can contain multiple groups. Both workgroups and communities can be created around projects or job descriptions, and configured in such a way to allow project members and domain experts to collaborate and achieve their goals. For example, a workgroup created around a project ,e.g. the launch of a new product, will require a way to share and have access to documentation, participate in discussions, and share competitor information, while a workgroup created around a job description, e.g. sales, will need a way to monitor the pipeline, collaborate on proposals etc. 
It continues with filtering and displaying information based on relevance.
Identifying and understanding your users and their needs is essential as you do want them to be engaged and the best way to do that is to provide them with information relevant to them. Most social business platforms just show a firehose of latest posts, much of which is not relevant to a particular user and this needs to be changed. 
Even Facebook ads are more relevant than feeds in a business digital workspace.
Displaying information based on users' expertise, interests, related to their current project allows for contextual information to be discovered and shared in an efficient manner that does not require sifting through everything, but saves time and increases engagement.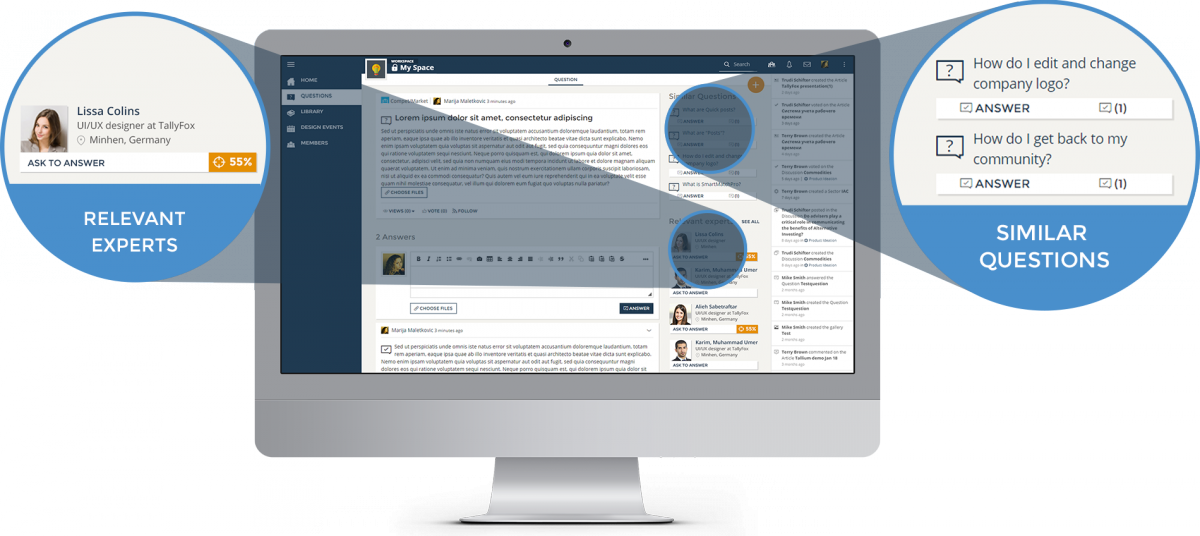 How relevant information is displayed on TallyFox
Tallium
Final thoughts
Shifting the focus from solutions which are presented to users without their input to solutions that are built upon users' needs is the best practice. A configurable knowledge management platform should allow you to listen to those needs and address them accordingly, which in consequence will help with software adoption and demonstrate fast ROI.