Introducing Industry Insights

Posted by

TallyFox

on 27 June 2013

Beyond Social Business
The Social Media Revolution is causing the most significant organizational and work transformation of the last half century. Knowledge workers are scrambling to understand how they and their organizations can benefit from these new technologies.
Standalone social networking is failing, however, to deliver business value and achieve broad adoption with 77% of employees never even logging in and less than 3% using their company network every day.
This is because social networking alone is disconnected from the immediate needs of users. Even worse, it adds additional effort to the already full schedule of professionals who are expected to deliver ever increasing productivity in an ever more complex world.
Making a huge difference in both productivity and results requires taking a step beyond social business. The trend is toward seamless integration of existing workflows with virtual knowledge sharing in the cloud. The holy grail is to create a more productive, innovative, resilient organization and to have more fun getting there!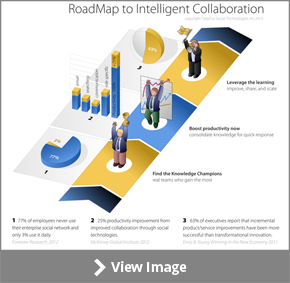 The good news is that organizations, small and large, can get started quickly and learn as they go on this rewarding journey. In fact, incremental improvements and learning from mistakes along the way is more successful than a top down, large transformational approach.
We have developed a simple roadmap to get you started and support you along with a series of tips, success stories and Industry Insights contributed by top gurus in this field.
I would love to hear from you about your collaboration & knowledge management initiatives and explore how we may be able to help.
​
Sincerely,
Trudi Schifter​
​​Founder and CEO