The necessity of knowledge networks: The Water Network

Posted by

TallyFox

on 23 March 2015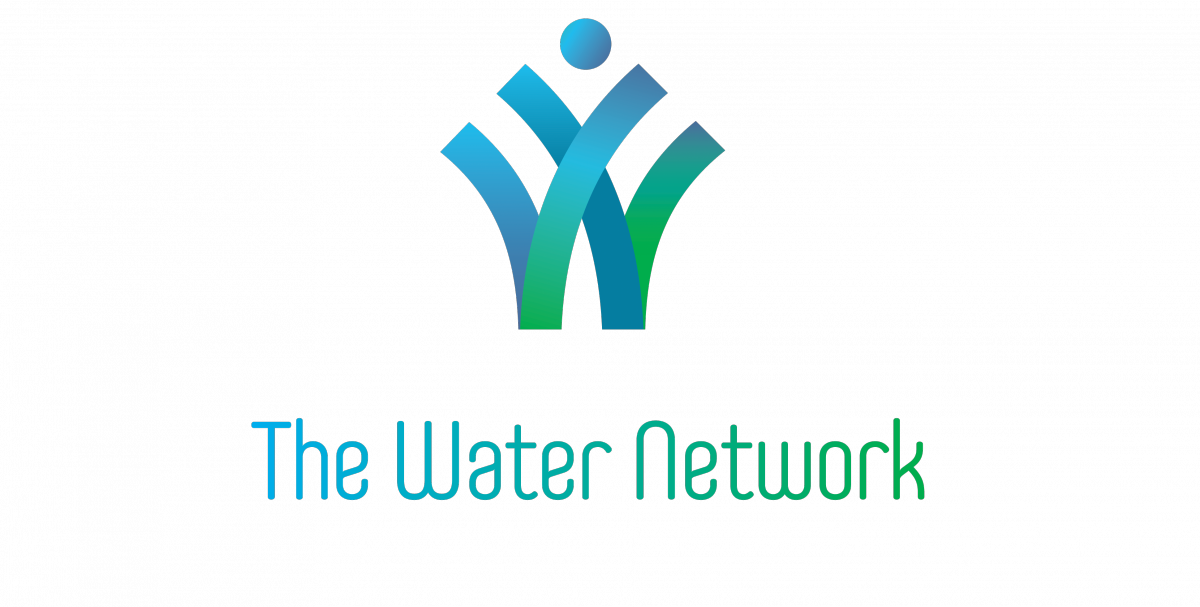 Knowledge networks are an old form of organization, and knowledge networking is primarily a social activity.
Fast technology development leads to the creation of new tools and platforms that promote new methods and channels of communication and collaboration. Today, anywhere and anytime, we are able to use these channels and methods to develop social connections with those we share similar interests with.
Moreover, our interconnected world and collaboration platforms have changed the idea of knowledge sharing - regular communication, virtual networking and knowledge exchange add significant value to new knowledge, insights and ideas. In turn, these ideas and knowledge are created, transferred, leveraged and stored at a much faster rate. Personal learning, experience and insights foster collective knowledge, which is continually evolving and developing.
Knowledge networks are open virtual environments, where creation and dissemination of knowledge encourage result-driven actions. 
One of the key benefits of knowledge networks is the free flow and exchange of concepts, ideas, insights and best practices that occur without boundaries.
The ability to network and exchange ideas with worldwide communities and form partnerships with organizations is achievable due to seamless access to valuable data and specific content and interaction of the users.  
Whether we speak about non-profit or for profit organizations, or governmental or private organizations and companies, knowledge networks are a model of collaboration platforms that empower all users to collaborate productively, efficiently and more quickly.
Once the community is gathered around the common objective and focused knowledge, the greatest benefit of knowledge networks is the creation of a future-focused and a result-driven community. The knowledge in these communities constantly grows and evolves.
Individuals and teams come together to invent new knowledge and reuse a body of knowledge.  Tweet
When individuals and groups work together on the same idea or problem, knowledge networks become the most valuable channels towards bringing change in the world. One such successful knowledge network is the Water Network, the largest online knowledge-sharing platform that brings together water professionals from around the world.
In 2011, TallyFox launched today the leading online knowledge network for professionals in the water industry bringing together companies from over 180 countries.
Currently, there are 8000 companies involved, 110 technology volunteers and a vast number of excellent advisors from the water industry, while the network is continually growing in experience professionals and volunteers.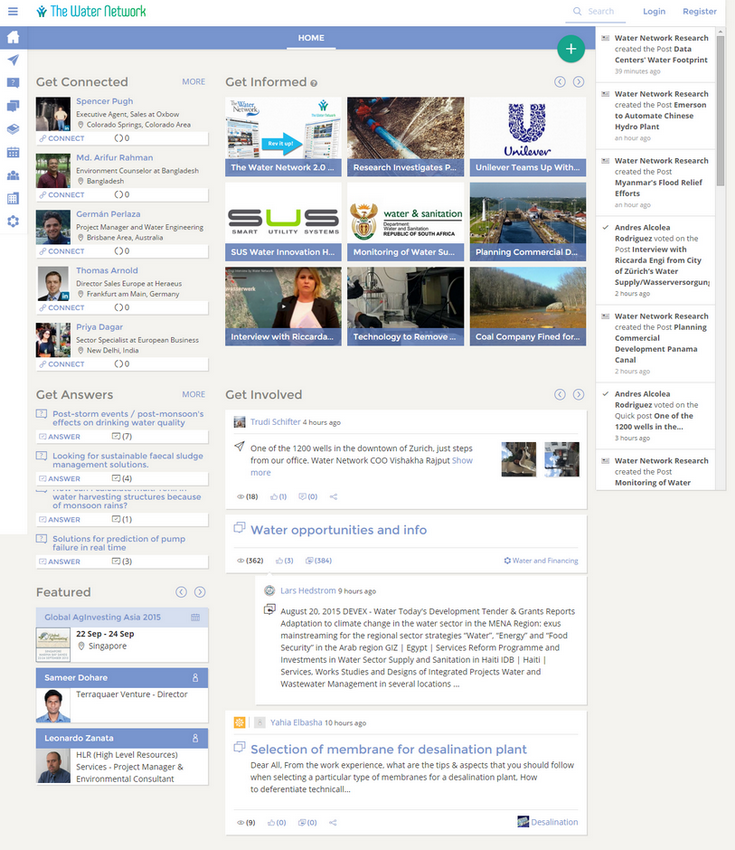 With 750 million people around the world who lack access to safe water, according to the World Health Organization and UNICEF report, bringing together professionals who would be able to offer and provide solutions to insufficient water supply is of the utmost importance, and one of the burning issues that call for immediate reaction. Moreover, The World Economic Forum announced that the water crisis is the number one global risk based on impact to society in the Global Risk 2015 report. 
The focus of the network and their primary goal is safe water and sanitation for everyone. To address such global crises we all face today is to bring together experts, professionals, organizations, companies and NGOs to exchange knowledge providing the tools for successful cooperation and partnership.
The Water Network gathers professionals from various areas that are devoted to the problems related to insufficient water supply and sanitation.
By now, they have been able to directly influence the 9 million knowledge workers in the water sector. The network connects grassroots workers, researchers, technology experts and industry professionals, companies and nonprofits with funders and partners enabling knowledge sharing, which will in turn bring successful business exchange. Knowledge sharing platform directly support the growth of the over 650.000 for profit water companies and suppliers, and tens of thousands of non-profit water organizations and communities involved with water industry.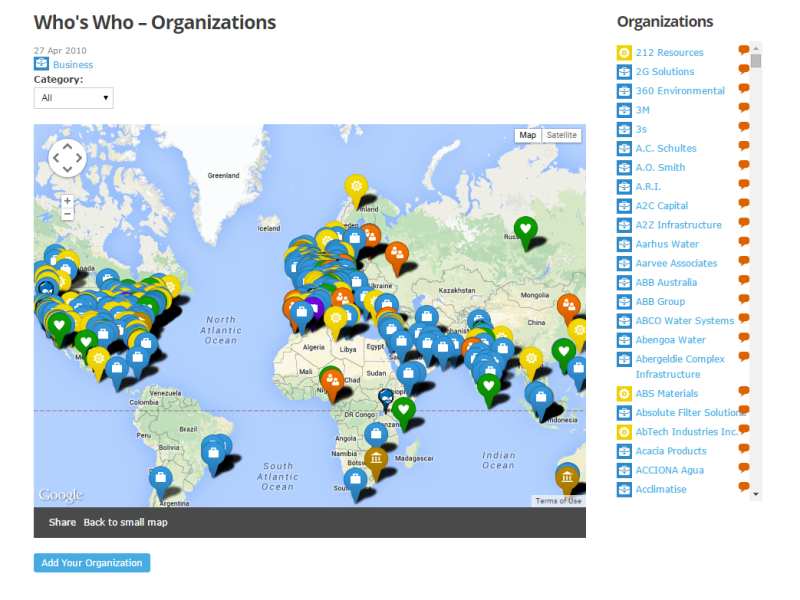 Through intelligent cloud-based management platform, TallyFox offers business-managing tools for users to easily share knowledge and build connections. Users can engage and connect on several levels, by sharing and exchanging valuable content in the library, through discussion boards and Q&A platform, through Cluster Workspaces, an integrated tool for content, project and knowledge management, and Event Fox, an intelligent tool for event managers, all hosted in a secure private cloud.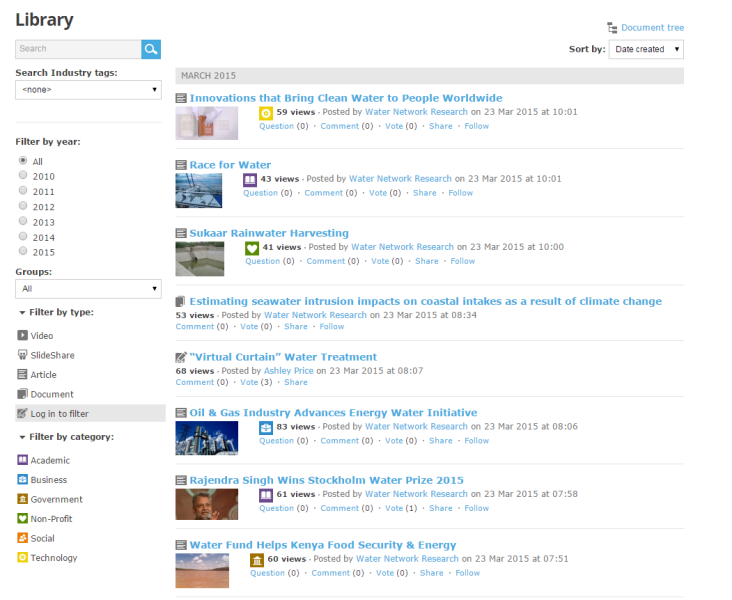 With integrated content, project and knowledge management, which are easily customizable, the platform serves as the knowledge-sharing hub, where users connect and distribute specific content and know-how, equipped with these key features:
●   Custom Taxonomy
●   Content categories
●   Expert search
●   Knowledge Bank
●   Maps
●   Social Tools
●   Events Listing
●   Content Management
●   Project Management
●   Mobile apps
●   Payment portal
●   CRM
●   Public and Private Content
●   Group members and Cluster members
●   Web Conferencing
Knowledge networks by TallyFox are created to serve the needs of professionals, companies, communities of interest, and to connect geographical regions and professionals from specific industry sectors. Companies and organizations focused on building partnerships and connections are provided with management tools for effective global media reach and promotion. 
If you are interested to join, you can download their app for both iOS and Android and browse through the network.
As a company dedicated to addressing the world's most critical sectors, TallyFox is creating the Health, Energy and Food network, enabling professionals to connect and share knowledge worldwide.
Companies and organizations from various industries could benefit from the knowledge networks and knowledge management. If you are interested, we would love to hear from you so feel free to contact us.