What Is a Collaboration Software?

Posted by

TallyFox

on 30 September 2014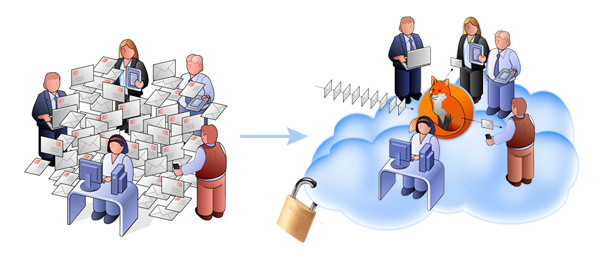 You have probably heard more than once that human interaction comes down to three main forms: conversations, transactions and collaboration. We do all three on daily bases, while shopping, travelling, studying, going out and, of course, working.
When it comes to business, collaboration process begins when you need to work jointly with at least one other person, aiming at producing something, resolving a problem or meeting a deadline. In order to start collaborating with someone who is not near, maybe not in the same building, company, country or even continent, the first thing you need is a collaborative software. Collaborative software or application software allows communication, file sharing, immediate access to crucial information while enabling a collaborative environment.
The Internet is over flown with different collaborative software, so how do you choose? First, you need to identify your business and communication needs and then after doing a little research on collaborative software, choose the safest and the best for you and your business. No matter if you are a small company, a start up or a large multinational company you can most certainly benefit from online collaboration. You do not have to stop at your co-workers but find associates and experts from all over the world. All you need is access to a collaborative platform.
Who can use collaborative software? The answer is – anyone. From individuals, small, privately run companies to large corporations; collaboration software can be applied just about anywhere. Platforms can be set up and organised according to projects, project teams, company departments or whatever your specific need is. 
Why do we need and use collaborative software? Today, time has become something of high value, together with effectiveness, productiveness and quality. With business turning to technology and mobility in order to survive, succeed and prosper, everybody must keep up. The aim of improving the quality of your service will direct you to the necessity of being present and active on the growing market today – which is the Internet. Using tools and technology will equip you with not just modernity but the needed efficiency to stay in the game and show professionalism. Furthermore, besides doing the work together with your team, collaboration software enables the precious communication between you and your co-workers. Also, document sharing, reports and projects storing are safe, fast and easy. In addition, you access the information from a single source, which diminishes the jeopardy of having document duplicates and outdated information.
When and where we use collaborative software? When being a member of a collaborative platform, you have access to it from any device and any place. You do not have to be in the company and you will still be a part of your collaboration team, always taking part of the working process and being up to date. If you need to go on a business trip, there is still an option for you to contribute to the project on your part and do not worry about being absent. The only thing you will need besides the Wi-Fi connection is a computer, laptop, iPad or tablet.
By using the advantages of modern technology and benefits that collaboration software can offer, make your business cooperation safe and productive, while the collaboration with the co-workers is smooth and efficient.